Tel: 312-55-APPLE
Fax: 312-31-APPLE (312-312-7753)
Location:
610 W. Roosevelt Road, Chicago, IL 60607
Hours:
Monday – Friday 8:00 am – 2:00 pm
Have any questions? Don't worry, #WeGotYouCatered! Email us at [email protected]
EAT SOCIALLY
FOLLOW US @APPLESPICECHI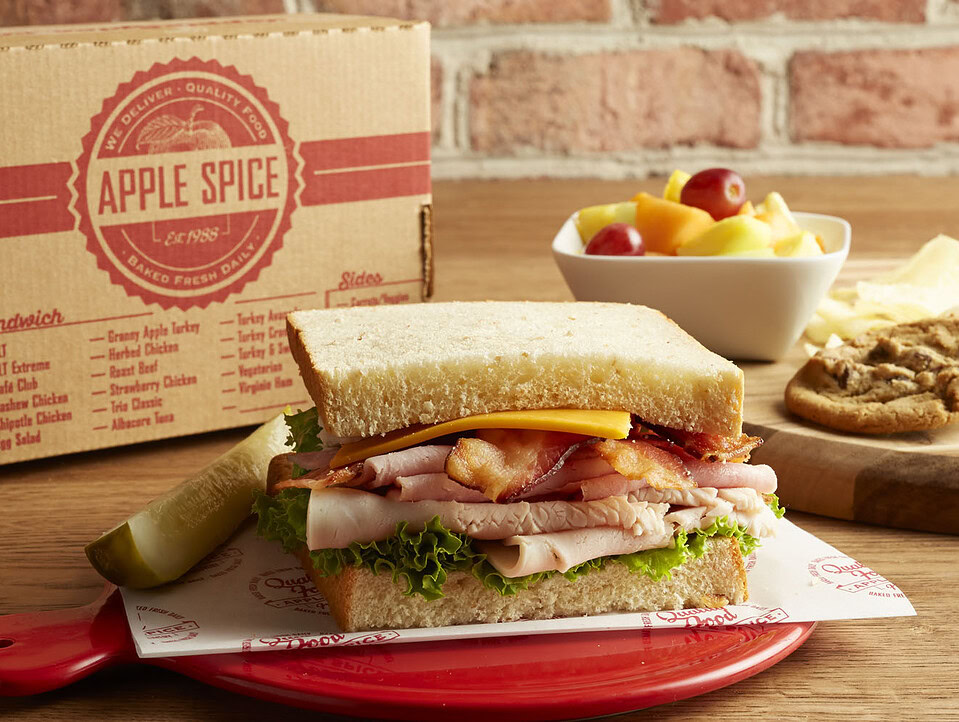 Box Lunch Delivery Menu
Our Chicago, IL box lunch delivery service features freshly-baked breads, fine meats and cheeses and crisp vegetables. Homemade soups, healthy salads with delicious dressings and fresh bakery treats round out the perfect meal.
Box Lunch Delivery Menu
Corporate Catering Menu
Apple Spice brings corporate and business catering to Chicago IL with delicious sandwich buffet platters, seasonal fruit and vegetable trays, fresh party salads, hot tender pot roast, our popular baked potato bar and selections of dessert and pastry trays.
Catering Menu
Corporate Lunch Delivery in Chicago
When you need professional and dependable catering, turn to Apple Spice Catering. For over 30 years, our corporate catering business has met the needs of businesses and organizations of all sizes, delivering delicious meals prepared with only the finest ingredients.
From small meetings to conferences with thousands of guests, you can trust that our team will take care of all your needs and provide your coworkers, clients and guests with a tasty meal.
Satisfy Everyone's Needs With Individually Boxed Lunches
With our boxed lunch catering option, everyone on your team will have an entire meal — entree, side, pickle and dessert — prepared just for them. No matter if you'll have a couple of guests or thousands in attendance, everyone will be able to indulge in a filling and flavorful meal made to their liking.
Our team will label each box with the recipient's name so they can be correctly passed out, making the meal distribution process quick and easy.
Choose From Hot and Cold Breakfast, Lunch and Dinner Catering
Planning a meal for your mid-size company or large gathering? At Apple Spice Catering, we have an assortment of hot and cold menu items that everyone is sure to find satisfying.
With options ranging from breakfast parfaits to hearty dinners, we'll provide you with the meals you need to start or end your day off right. No matter when or where in Chicago your next event is, you can trust that we'll make your catering experience a success.
Why Partner With Our Corporate Catering Experts?
When Apple Spice Catering takes care of your next meeting or conference, you can expect your meals to be prepared right and delivered on time. Whether you order a few hours ahead of time or plan for a future date, we'll get your meals prepared and sent out from our kitchen to your business. Whether you need five or 5,000 boxed lunches, we're flexible to your needs.
We'll even bring along the necessary plates and garbage bags so you'll have everything for a successful lunch or event. Have a special request? Be sure to let us know and our team will do what it takes to accommodate your request — even if it's not on the menu.
Ready to Place Your Order?
For ordered, delivered and delicious meals, turn to Apple Spice Catering. If you are ready to place your order for corporate boxed lunch and catering services in Chicago, give us a call at 312-55-APPLE or email us at [email protected] today.