TRUST THE BOX LUNCH

Catering Experts
When you're asked to order lunch for a few people or everyone at a big meeting, you want a fast, easy solution. At Apple Spice Catering, we offer delicious box lunches brimming with everyone's favorite foods.
For more than 30 years, we've specialized in individual lunch box catering for companies like yours. Let us take one of your most important responsibilities off your plate — all the while plating up unparalleled goodness for your teammates, clients, and guests.
Order box lunch delivery right now. You can schedule a delivery for a future date or a meal in a few hours. We're flexible, allowing you to get the healthy choices you deserve without compromise or fuss.
Find Your Location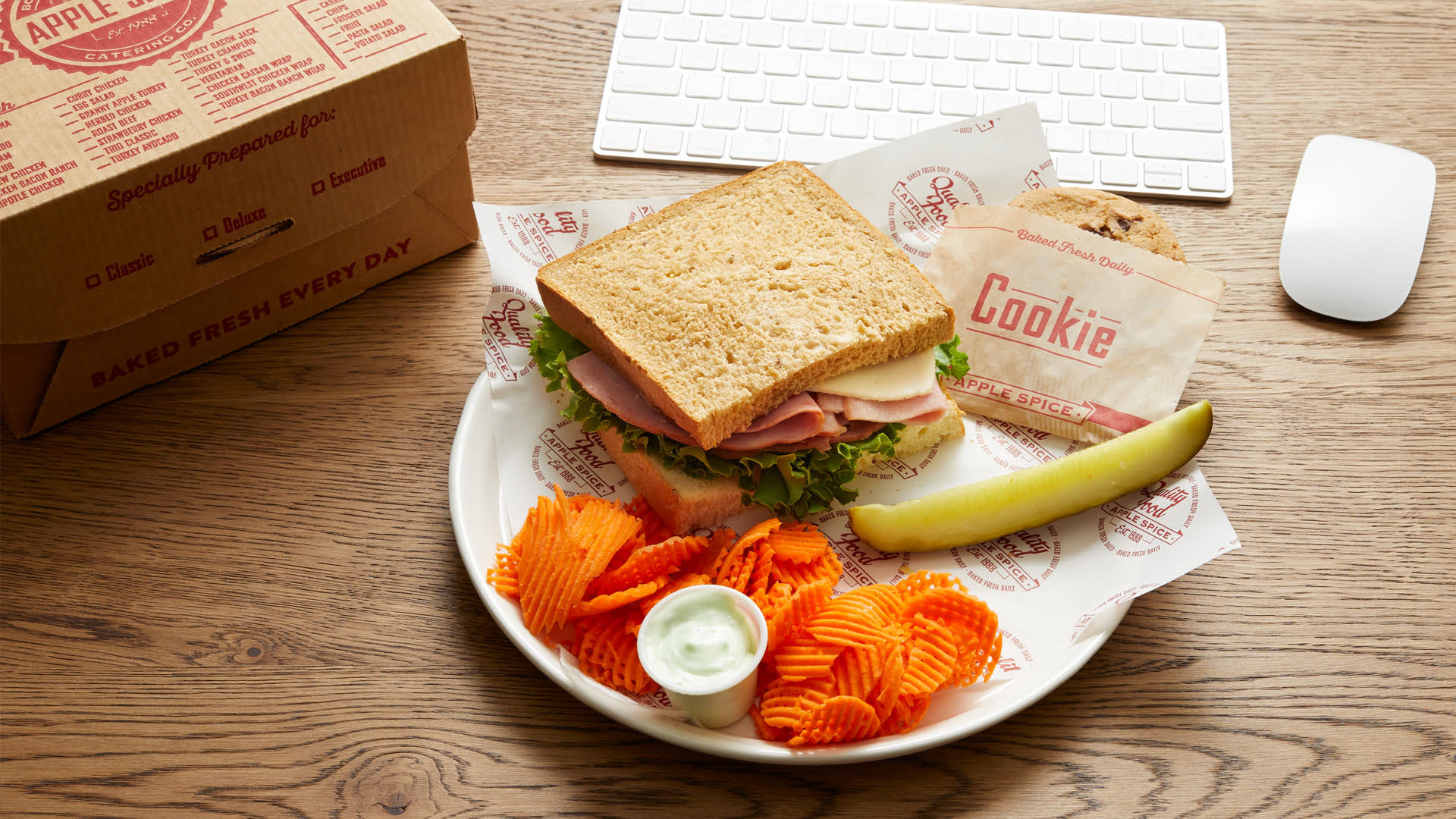 WHAT'S INSIDE THE

Best Business Box Lunch
Our box lunches are the ideal way to fuel up everyone on your corporate lunch catering list. Each meal contains homemade items including sandwiches, soups, and salads. At Apple Spice Catering, we insist on using premium ingredients. From our deli meats and cheeses to our famous fresh-baked bread and cookies, we never skimp on quality. We ensure your dining enjoyment from the first bite to the last morsel.
Want another reason to appreciate an all-in-one boxed lunch that contains everything in one package? It's a safe way to get food from our kitchen to your business. Never worry about having to handle other people's lunches or opening boxes to figure out what's inside. Every catered box lunch is labeled with the recipient's name for maximum peace of mind and convenience.
Whether you have a seriously large crew to feed or just a few folks in need of a noontime meal, trust us for box lunch delivery on time, every time.
Leaving the office to pick up dozens of individual boxed lunches can eat up your productivity and put a dent in your workflow. When you need catered lunches, count on Apple Spice to deliver them right to your business.
Boxed up efficiently with delicious food, our lunch boxes are created to your specifications and coordinated to your schedule. We're known for being prompt and pleasant. Every interaction you have with our team members will show you why we've been highly trusted in the boxed lunch catering business for three decades and counting.
Wondering how to distribute your box lunches seamlessly? We include a name on each boxed lunch we bring to your event. You can quickly hand out lunches or have everyone pick up the boxed lunch designated for them. It's never been easier to reduce touchpoints and safely get healthy meals to everyone in your group.
Find Your Local Box Lunch Menu
BOX LUNCHES FOR MEETINGS

On Your Schedule
While many organizations and event planners choose box catering for lunchtime, you can benefit from this convenience throughout the day. Our locations near you are open throughout normal business hours, making it easy for you to schedule individual lunch box delivery for late morning, a later lunch or even dinner.
Our mission is to make ordering and receiving box catering deliciously streamlined. Never again wonder what you'll serve to coworkers, clients, or visitors. Put your trust in the breakfast, lunch, and dinner box catering professionals at Apple Spice.
Box Lunch Catering Locations
Michigan
Minnesota
Missouri
New Jersey
North Carolina
Ohio
Pennsylvania
Tennessee
Texas
Utah
Virginia
Wisconsin