GREENSBORO - NORTH CAROLINA
Corporate Lunch Catering and Delivery
Interested in joining our Apple Spice team?
Click here to submit your application
ONLINE APPLICATION
Tel: 336-852-8243
Email for questions and inquiries only: [email protected]
For orders, please call or use Online Ordering link above
Location:
Greensboro, NC
104 Meadowood Street
Greensboro, NC 27409
Hours:
Office Hours Monday – Friday 8:00 am – 3:30 pm
Deliveries: As Scheduled any time of day subject to minimums
Apple Spice Greensboro operates as delivery and call ahead pickup only.
Pickup available Mon. – Fri. 10:00 am – 2:00 pm.
Same day orders must be placed by 1:00 pm
Please call for current Summer Sizzle pricing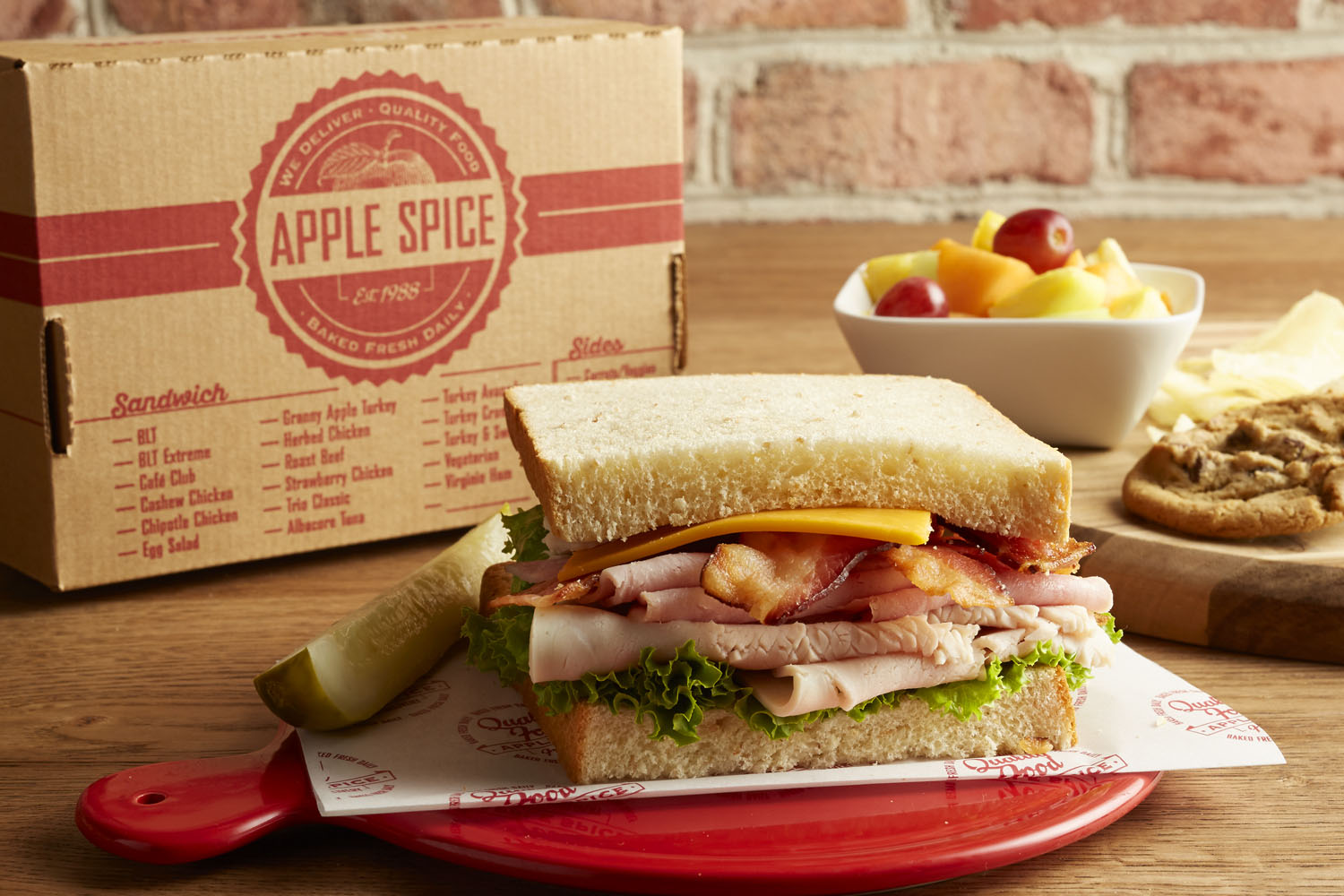 Catering Companies in Greensboro, NC
Apple Spice Catering began in 1988 when our founders rented a storefront from a local bakery. Our focus is entirely on catering, so we can give each order the attention it deserves. The Apple Spice Catering secret is that we're unlike most catering companies. We bake our bread fresh daily and source only the finest ingredients so each bite is delicious and fresh.
When you order from Apple Spice Catering, you're getting delicious boxed lunches and meals for your event or company. With our extensive menu, you'll always find something you'll love, without a wait to be seated. Check out a few of the many benefits you'll enjoy when ordering with Apple Spice Catering:
Variety: Take a look at any of our box lunch, catering, Summer Sizzle or holiday menus to find what you're looking for. Our fresh and satisfying meals are sure to please every member of your team or event.
Flexibility: We're flexible, so you can order your meal in a few hours or book for a large event months from now. Whatever you need, just let us know and we'll exceed your expectations.
Accuracy: We'll deliver the meals you order correctly and on time, along with everything you'll need for an impressive event — including plates, utensils, garbage bags and special requests.
High-Quality: We're dedicated to providing you with the best catering experience possible, including great food and exceptional service.
Unlike many catering companies, we can handle orders within a few hours, so you can always grab lunch. We have a wide menu of healthy and even gourmet options so you can go well beyond the usual tray of vegetables or sandwiches. With Apple Spice Catering, you get meals that delight.
Packed Food Catering
At Apple Spice Catering, we're the experts in boxed lunch corporate catering. When you order packed food catering from us, you enjoy an amazing selection, timely delivery and exceptional service. Our team is known for our professional and pleasant approach to each delivery.
Our packed food service includes box lunches, with delicious sandwiches or wraps of your choice, your chosen side dish, a freshly-baked cookie and a mint. We also offer packed food holiday meals for your holiday parties. There are more than 100 combinations to choose from, so you'll never run out of fresh new meal options for your meetings or events.
You can trust us to fuel your team and delight your guests. After all, we're the experts. Browse Apple Spice Catering menus today and put in an order to taste the difference freshness makes.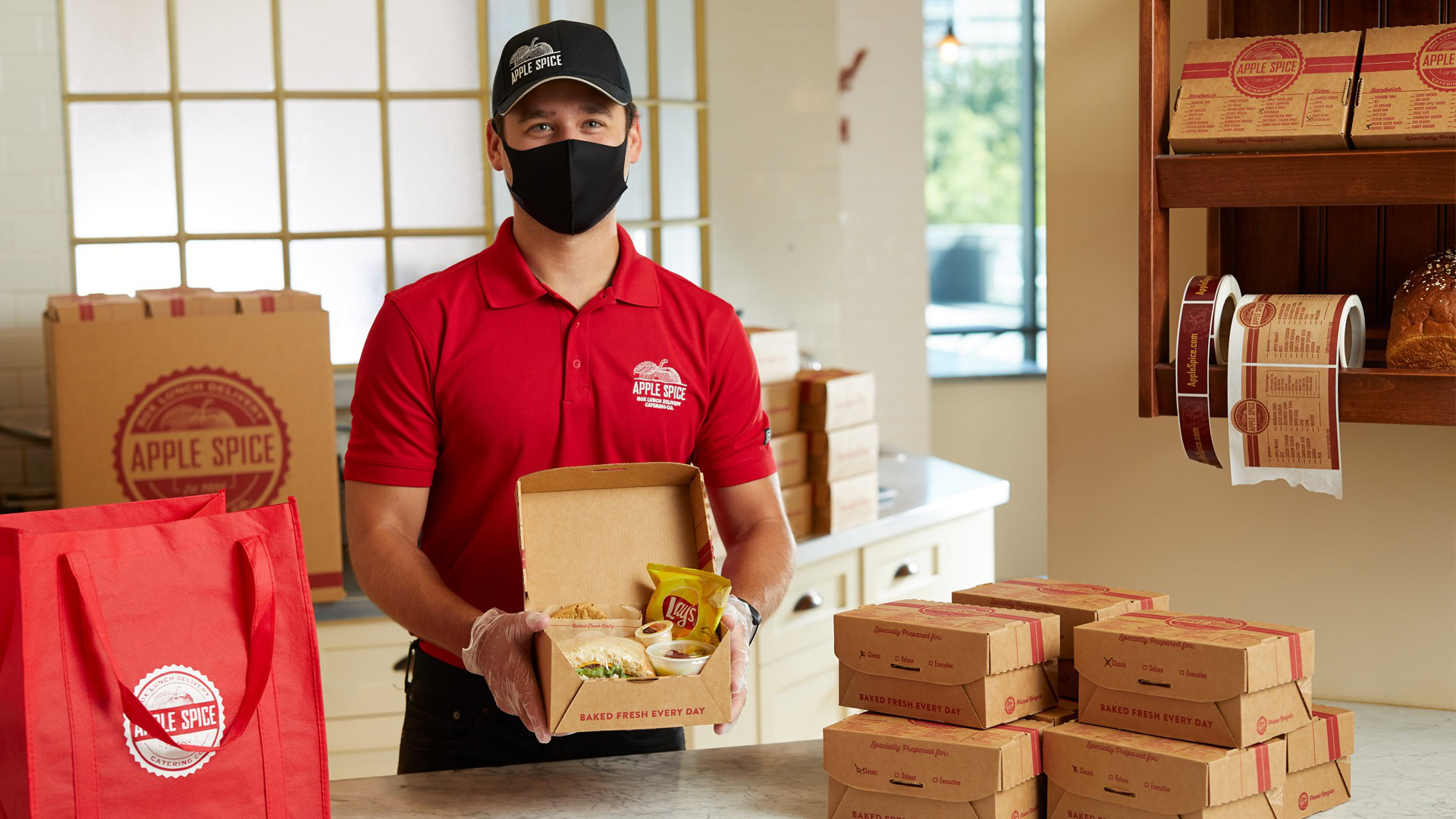 Box Lunch Delivery Menu
Sandwich selections feature freshly-baked breads, fine meats and cheeses and crisp vegetables. Homemade soups, healthy salads and fresh bakery treats round out the box lunch menu, while breakfast offerings range from pastries and fruit to gourmet eggs and seasoned potatoes.
Box Lunch Delivery Menu
Catering Menu
Our corporate and business catering menu features delicious sandwich buffet platters, seasonal fruit and vegetable trays, fresh party salads, hot tender pot roast, our popular baked potato bar and selections of dessert and pastry trays.
Catering Menu
Summer Sizzle
Enjoy a delicious old fashion summer cookout featuring our grilled barbecue or teriyaki chicken, pulled bbq pork, meat kabobs, ribs, hot dogs, hamburgers, and juicy steaks from our Steak Pit. Side dishes include baked beans, potato salad, cole slaw, corn on the cob and much more.
Please call for current Summer Sizzle pricing
Holiday Menu
Make your holidays special with a delicious meal featuring roasted turkey, Virginia Baked Ham, cranberry chicken, honey pecan chicken, tender pot roast, mashed potatoes and gravy, steamed vegetables, stuffing, cranberry crunch cheescake and much more.
Please call for current Holiday pricing