NASHVILLE - TENNESSEE
Delivering to Nashville, Brentwood, Franklin, Antioch, Bellevue, Donelson, La Vergne
Interested in joining our Apple Spice team?
Click here to submit your application
ONLINE APPLICATION
Hours:
Inside Pick Up: Monday – Friday 7:00 am –5:00 pm
For Deliveries: Any time of day as scheduled
Box lunch delivery and catering in Nashville is available any day at any time based on order size and availability. Call our food catering specialists to schedule your event.
Leave a Google Review!
opens in a new window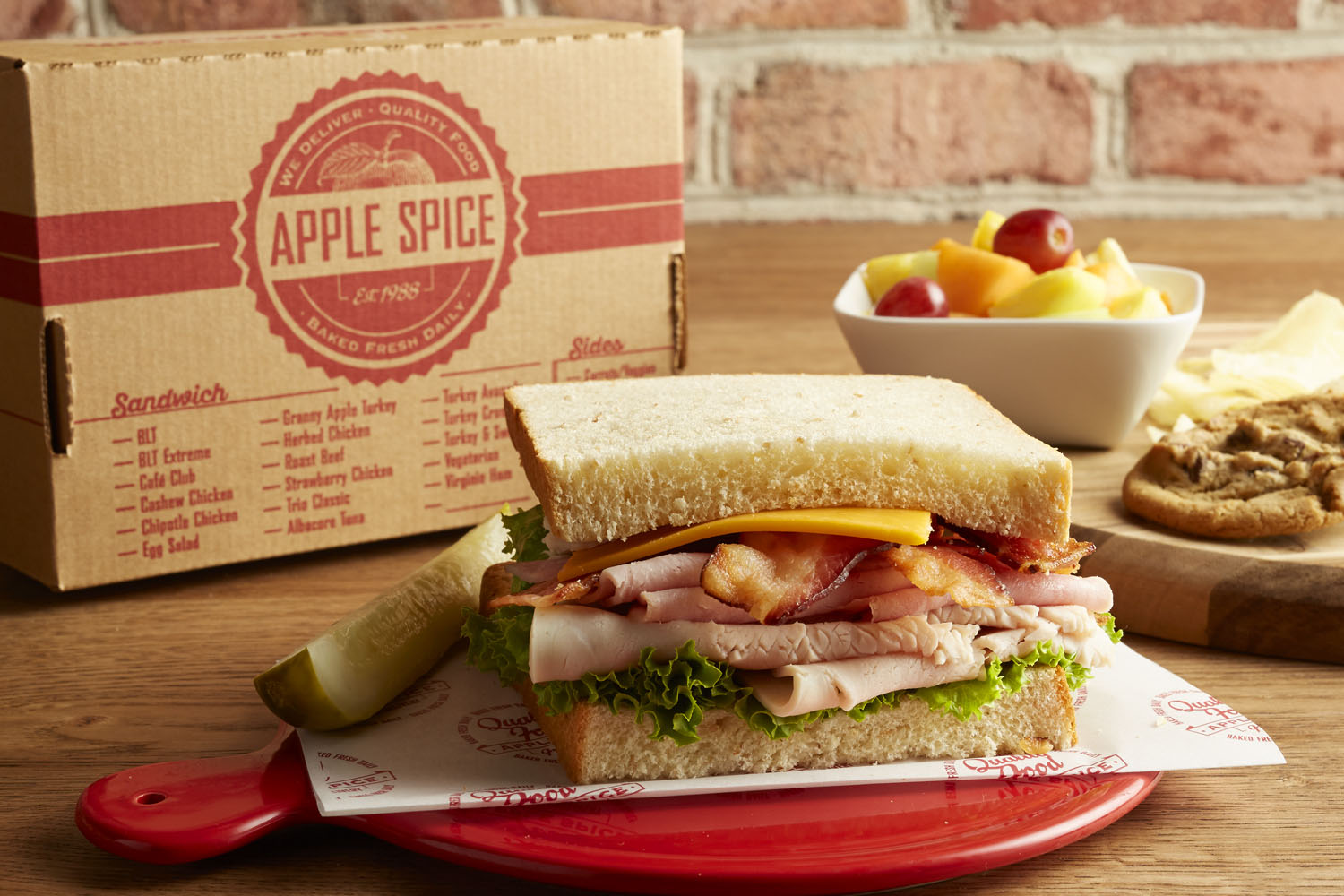 Best Food Catering in Nashville, TN
Planning your next office event is easier than ever with catering from Apple Spice. When you want exceptional food catering in Nashville, Tennessee, and the surrounding areas, rely on us to deliver it fresh and correct every time. Let our dedicated team create delectable dishes and boxed lunches that will delight your colleagues or guests.
At Apple Spice, we have provided businesses with food catering since 1988, and we are committed to delivering meals that meet all your needs. Whether you're hosting a team meeting of 10 people or an office party of over 1,000, we are happy to accommodate as many people as possible.
We are the go-to choice for breakfast and lunch catering in Nashville. Our team is always ready to whip up a tasty food experience for corporate events. When you choose us for Nashville food catering, you will experience:
A dependable team that works to ensure all your needs are met.

A menu full of incredible and tasty food options that appeal to every taste.

Freshly baked bread and treats with each meal.

A team that goes above and beyond making accommodations to fit special requests.
Our Corporate Event Catering
Depending on the size of your event, hosting a corporate event can be a demanding task. We take the load off by giving you peace of mind when it comes to curating a menu that will wow your colleagues and clients. Our experienced team always sticks to the schedule, making sure that the food is there when it needs to be served.
At Apple Spice, we specialize in corporate event catering and ensuring everything runs smoothly. We provide catering for any type of event your business may organize. Treat your team to great food from our hot and cold menus, with a wide variety of flavors that suit any palate or occasion.
You can preorder meals for all your guests based on their preferences, and our team will serve plates of delicious food to each person. With our buffet-style catering, your guests can enjoy various dishes and select whatever their tastebuds desire at that moment. You can also order our famous boxed lunches to receive meals that suit individual dietary needs. Also, ask about our corporate breakfast catering in Nashville.
When you want quality catering in Nashville, our catering experts will work with you every step of the way to give you exceptional service and food that is up to standard.
Boxed Lunches Catering Near You in Nashville, TN
Experience one of the top corporate lunch caterers in Nashville featuring freshly-baked breads, fine meats and cheeses and crisp vegetables. Homemade soups, healthy salads and fresh bakery treats round out the box lunch menu, while breakfast offerings range from pastries and fruit to yogurt parfaits with berries and granola.
Box Lunch Delivery Menu
Catering Services
Our corporate and office lunch catering near you in Nashville, TN features delicious sub sandwich catering, sandwich buffet platters, seasonal fruit and vegetable trays, fresh party salads, hot tender pot roast, our popular baked potato bar and selections of dessert and pastry trays.
Catering Menu
For over 30 years, our boxed lunch catering company has been meeting the needs of a wide range of businesses, meetings and special events in Nashville, Tennessee. Our team can deliver to locations all throughout Brentwood, Antioch, Donelson, Franklin, La Vergne and Bellevue, providing you with premier meals that you will find both delicious and filling.
Whether you need meals for a few team members or thousands, our box lunches and catering menus are designed to satisfy everyone on your list. Your search for places that cater near you ends here. Let us handle all your catering needs — right and on time.
Individually Packaged Meals in Nashville TN
With our corporate lunch delivery service, no matter where in downtown Nashville your business is located, you can have entire meals individually packaged and brought right to you. After our team boxes up each entree, side, pickle and dessert, we place names on each order, allowing you to easily and efficiently pass out the meals to your team.
Along with helping you save time, having individually packaged and labeled meals is a much safer way to serve your team. Whether you are hosting a conference or client meeting, you won't have to worry about excessively handling and opening others' meals since their name will already be prominently displayed on the box. That is corporate catering done right!
Our Nourishing, Satisfying Nashville Catering Menu
When you need lunch catering in Nashville, you can't go wrong with choosing Apple Spice's traditional family style catering. On our menu, you'll find something for everyone — even vegetarians. On our hot and cold catering menu, we have a large selection of sandwich platters, fruits, vegetables and dessert trays that your employees, clients and guests will find simply delicious.
Along with lunch menu options, you can also count on our team for breakfast and dinner catering. And as we specialize in box lunch catering, we bring just as much attention to detail and extraordinary customer service to our traditional buffet style catering events. No matter what time of day you need us, you can trust that Apple Spice will deliver all-in-one meals made with premium ingredients that your entire team will love. when looking for office lunch catering near me, choose Apple Spice Catering.
Catering Menu
Nashville Food Catering Done Right With Us
Our team is dedicated to providing you with fast, easy solutions you can depend on for corporate catering in Nashville. To meet your needs, we are open throughout normal business hours, allowing you to easily schedule delivery services whenever you need to. We'll also bring along everything you need to make sure the meal goes smoothly, from plates to garbage bags.
While we always deliver an experience you can count on, if you have any specific requests, we are more than happy to accommodate them. Just let us know and we'll do what it takes to ensure everyone is satisfied with their meal.
Ready to Plan Your Next Corporate Event?
Looking for office lunch catering near me? At Apple Spice, whether you need boxed lunches or catering for a special event in Nashville, our team of satisfaction specialists is here to provide you with the best office catering experience from start to finish. When you work with our team, you can always expect that your food will be made correctly and delivered fresh whenever you request it.
If you're ready to get started, you can reach out by giving us a call at 615-873-1661 or emailing our local catering specialists at [email protected].
Contact Us Today
Best Holiday Corporate Catering in Nashville, TN
Show your holiday cheer by bringing Apple Spice's holiday catering to your office. Our featured Thankful Box comes with carved turkey or ham sandwiches on our fresh made bread, with cranberry sauce, stuffing and signature Pumpkin Pie. Order holiday catering from our menu to make your Thanksgiving and Christmas season at the office special this year.