MURRAY - UTAH
Corporate Catering and Office Lunch Delivery
HOW TO GROUP ORDER
Now Available - Hot Individually Packaged Catering Meals.
Interested in joining our Apple Spice team?
Click here to submit your application
ONLINE APPLICATION
Hours:
Walk-in Deli Monday – Friday 9:00 am – 4:00 pm
Box lunch delivery and catering are available any day at any time. Call our catering specialists to schedule your event.
Apple Spice Catering & Lunch Delivery begins taking orders by 8 am. We will always do our best to accommodate your needs, but it is a good idea to call early if you have a preferred delivery time. (Minimum order for delivery may apply.)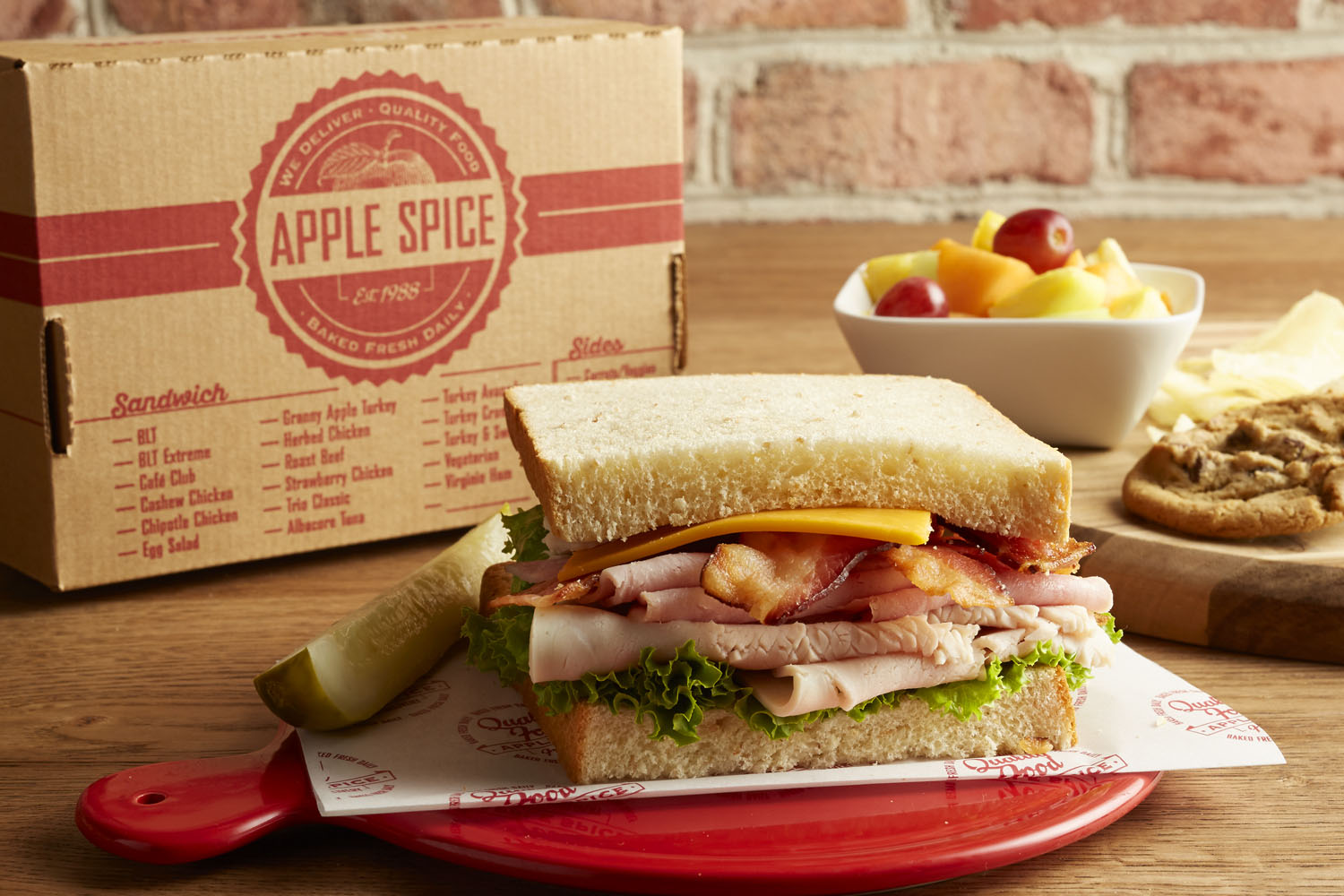 Box Lunch Delivery Menu
Sandwich selections feature freshly-baked breads, fine meats and cheeses and crisp vegetables. Homemade soups, healthy salads and fresh bakery treats round out the box lunch menu, while breakfast offerings range from pastries and fruit to gourmet eggs and seasoned potatoes.
Box Lunch Delivery Menu
Catering Menu
Our corporate and business catering menu features delicious sandwich buffet platters, seasonal fruit and vegetable trays, fresh party salads, hot tender pot roast, our popular baked potato bar and selections of dessert and pastry trays.
Catering Menu
Summer Sizzle
Enjoy a delicious old fashion summer cookout featuring our grilled barbecue or teriyaki chicken, pulled bbq pork, meat kabobs, ribs, hot dogs, hamburgers, and juicy steaks from our Steak Pit. Side dishes include baked beans, potato salad, coleslaw, corn on the cob and much more.
Summer Sizzle Menu
Holiday Menu
Make your holidays special with a delicious meal featuring roasted turkey, Virginia Baked Ham, cranberry chicken, honey pecan chicken, tender pot roast, mashed potatoes and gravy, steamed vegetables, stuffing, cranberry crunch cheesecake and much more.
Holiday Menu
Apple Spice Box Lunch Delivery & Catering in Murray
For Murray, Utah, soups, sandwiches, and catering in Apple Spice Lunch Delivery & Catering is the best place. Since 1988, we've been making delicious meals for the Salt Lake Valley. We cater to weddings, parties, company events, and almost any other occasion that you can think of.
Whatever event you need catering for, we can help. For a sit-down lunch or professional catering, talk to us today. We deliver for free!
Enjoy Safe, Individually Packaged Lunches
Boxed lunches are an Apple Spice specialty. When you order our boxed lunches, everyone will receive a safe meal made especially for them. Each box contains an all-in-one meal that even includes dessert. Each meal is delicious from start to finish, but we won't judge if you eat the cookie first.
With our lunch boxes, you can skip hunting through each bag for your meal or risking exposure to food allergies. We wrap each item individually for a safe catering experience. Plus, you can read each recipient's name on each box for easy distribution.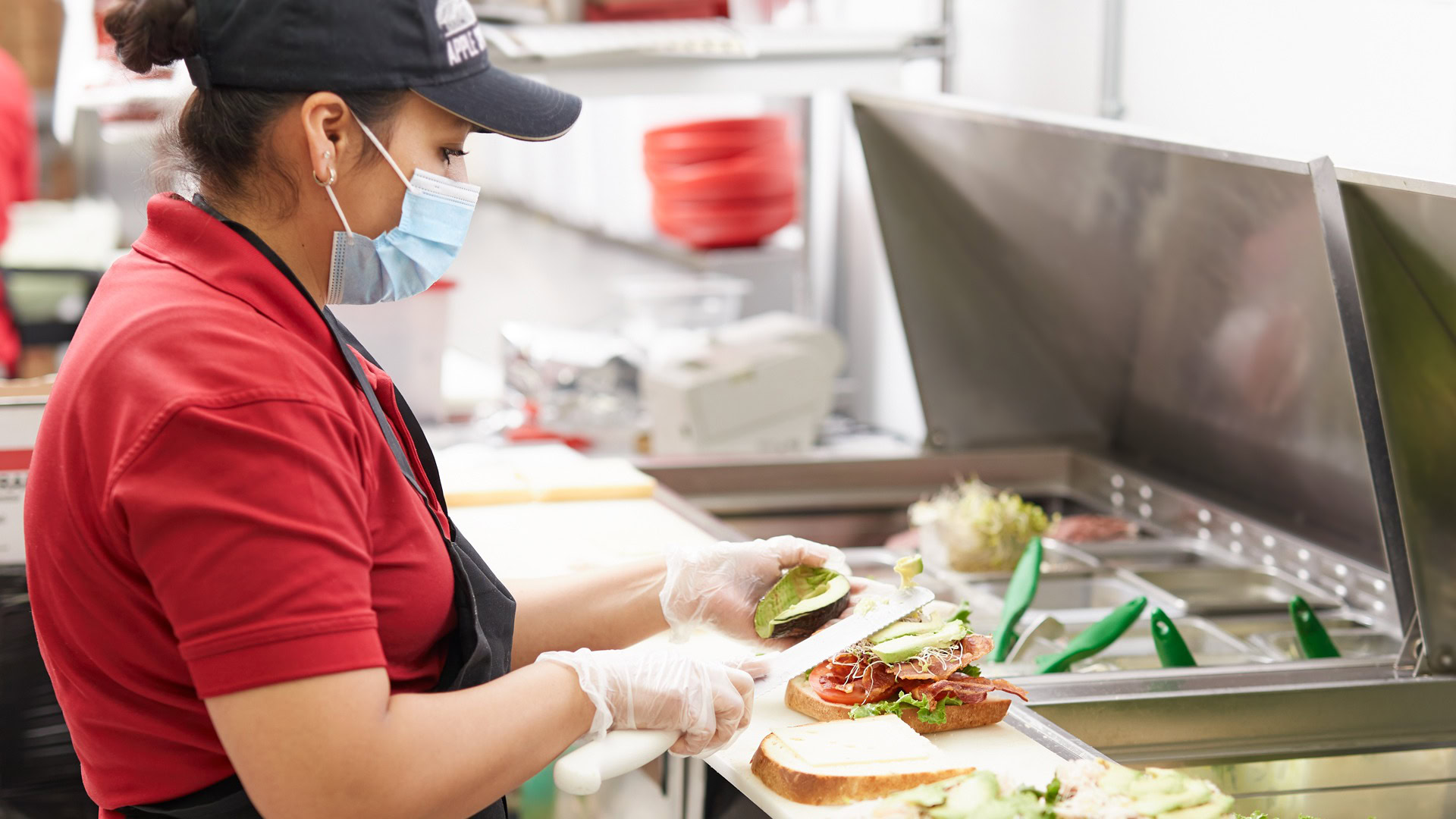 Boxed Lunches for Everyone in Murray, Utah
With options like BLT avocado sandwiches and loaded baked potato soup, all your employees are sure to find a new favorite meal with Apple Spice. We make our meals with fresh ingredients and seasonal fruits and vegetables for maximum deliciousness.
Our flexible team can provide lunches for five to 5,000 people. Whether you need lunches for an early morning meeting or a mid-afternoon event, Apple Spice can deliver quality lunches on your schedule. Our satisfaction specialists can take care of even the smallest details to create a stress-free catering experience.
Breakfast Food Catering
Help your team kick-start their days with a tasty replenishing breakfast. Often referred to as the most important meal of the day, a good breakfast can set the tone for employees' shifts. At Apple Spice, we serve fresh, quality breakfast catering in Murray, UT, bringing detectable meals to your morning meetings or conferences.
If you want to serve your colleagues or clients with dishes that satisfy their tastebuds, try our breakfast in a box. Our boxed breakfast meals are a fast and convenient option and allow everyone to order meals that are individually wrapped and made for them. Our lunch-in-the-box menu features fresh muffins, burritos, sandwiches and yogurts topped with your favorite fruits.
We also offer hot and cold food catering in Murray, UT, for various corporate events. Treat your guests and colleagues to a wide range of flavorful food options from our menus. Whether you're looking for an all-American breakfast or fresh baked goods served on our dessert trays, we offer a variety of appetizing options. Our dedicated team will ensure you receive everything you ordered on time.
Best Food Catering
Apple Spice has served exceptional food catering for businesses and events since 1988. With catering as our sole focus, we have perfected the craft and have extensive experience working on various kinds of events. Nothing brings an event together quite like incredible food, making it vital to work with a catering company you can trust.
When you turn to Apple Spice for all your catering needs, you will benefit from our:
Professionalism: Our caterers have extensive experience providing quality food for different types of events. We can also opt to provide you with suggestions on which meals you should offer at certain events. We will also assist you in presenting the food to impress your clients or team.
Variety: Our extensive menus offer a wide array of delectable dishes with mouthwatering flavors. Beyond that, we also provide many options for serving your food, from boxed lunches to hot and cold buffets.
Punctuality: We understand that time is an essential factor when organizing an event. Everything must be on schedule, so our team will deliver your food on time.
Flexibility: We go above and beyond to meet your needs, which is why we accommodate any special food requests that you may have. Communicate with us to learn how to order meals tailored to your needs.
Catering Done Right
Can you recall the last time you went to an event with catered food? How did your enjoyment of the food change how you felt about the rest of the event?
It's obvious that a well-prepared meal affects how felt about the rest of the event. If you had been served low-quality food, you might have wanted to leave and never return.
If you are planning an upcoming event, you can make the right choice: treat your guests to a scrumptious meal from Murray's Apple Spice Lunch Delivery & Catering, a professional caterer. Our Salt Lake catering service can bring everything you need, from plates to garbage bags, right to where you need them.
Making An Event Successful With catering
If you are put in charge of the company lunch, you have many catering options to choose from. You might start with companies that only cater. This is a safe choice, but you will first have to find a way to sample their food before the big day.
What if you let your favorite sandwich shop and bakery cater your next event?
Apple Spice Lunch Delivery & Catering in Murray, Utah can do it! We offer professional catering services for any event. If you've ever had a casual lunch with us, you already know that our food is delicious and our service is great.
You don't need to take a shot in the dark. Your company will either get excited about having lunch from their favorite place or get to try something totally new. Go visit your Apple Spice Corporate Catering & Delivery in Murray to learn more about our lunch menu and catering services.
Use Apple Spice for Your Next Corporate Lunch Delivery in Murray, Utah
Whether you need meals delivered on the day you place your order or are planning for a future event, Apple Spice is ready to meet your catering needs. Scheduling is fast and easy. What's more, our team of satisfaction specialists will work hard to ensure that your meals fulfill all your requests.
At Apple Spice, we pride ourselves on providing positive customer experiences, and we'll do what it takes to ensure your entire team is satisfied with their meals.
Don't worry about your next event: whether it's an office party or a wedding dinner, Apple Spice Lunch Delivery & Catering will exceed the expectations of all your guests. Don't let your next event overwhelm you; call a professional catering service now.
If you're ready to bring boxed lunches to your office, call us today at 801-263-7799 or order online!