UTAH COUNTY - UTAH
Catering and Food Delivery In Utah County
HOW TO GROUP ORDER
Now Available - Hot Individually Packaged Catering Meals.
Interested in joining our Apple Spice team?
Click here to submit your application
ONLINE APPLICATION
Hours:
Walk-in Deli Monday – Friday 9:00 am – 4:00 pm
Box lunch delivery and catering is available any day at anytime. Call our catering specialists to schedule your event.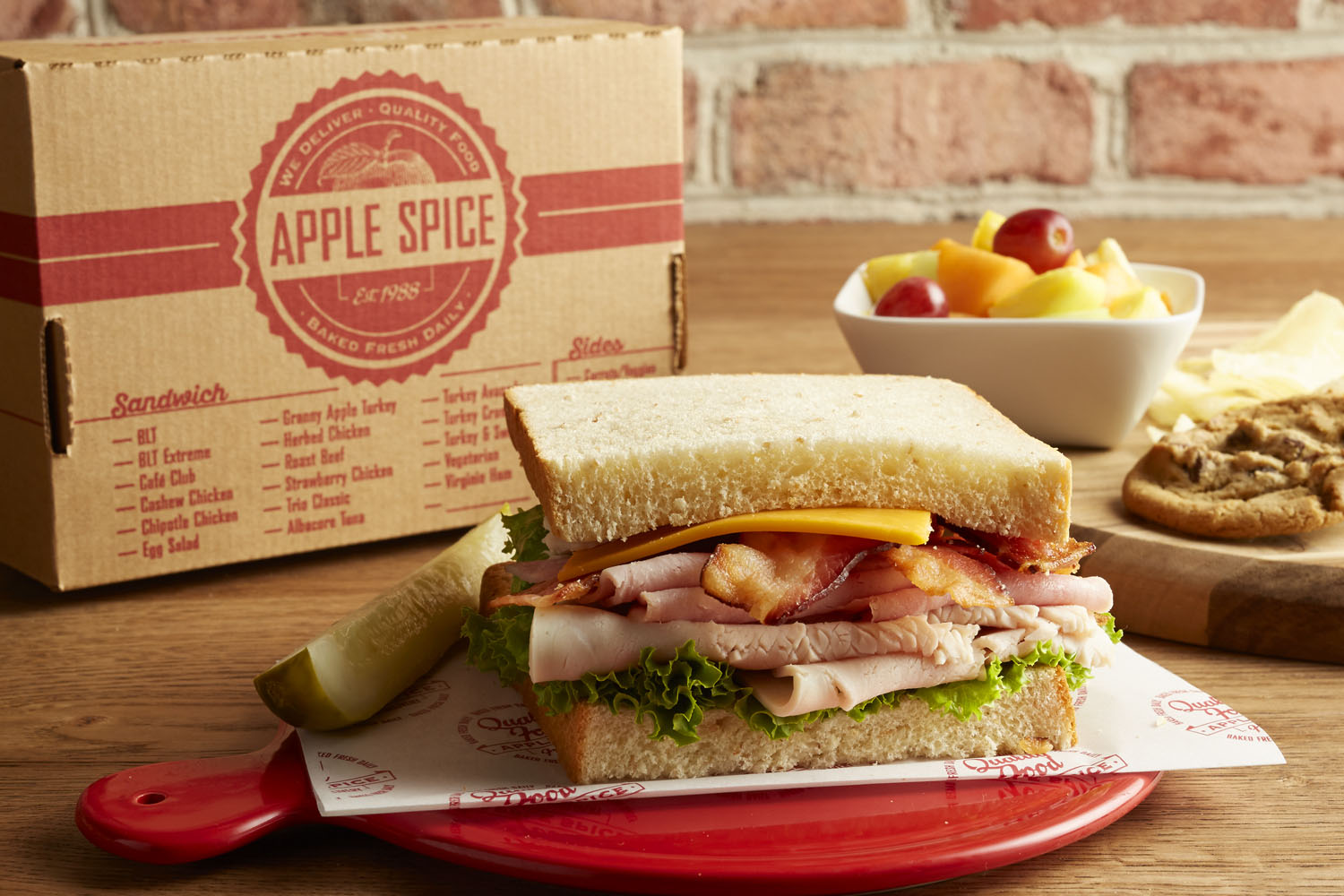 Food Delivery and Catering Services
If you're looking for sandwiches, soups, and catering in Utah County, Apple Spice Corporate Catering and Lunch Delivery is the place to go. Since 1988, we've been making delicious lunches for Utah County. We cater for all types of events; Weddings, Parties, Company events – whatever you need catering for, we can provide. For catering or just a bite to eat, drop in today or call to order – we deliver!
Catering Makes a Difference
Remember the last time you had a catered meal. Did your opinion of the food reflect on how you felt about the event? There's no question that a well-cooked meal changes how much you enjoyed the event. Had the food been of low quality, you may have wanted to run away and never come back. If you are planning an upcoming event, make the right choice: treat your guests to a quality, delicious meal from Apple Spice Catering and Lunch Delivery, a professional catering company in Orem, Utah. Our Utah County catering service will be able to bring everything you need, from silverware to garbage bags, right to the place where your event is located.
The Key to Successful Company Events
Let's say you get put in charge of the company lunch. There are many different catering options to choose from. You could start with companies that cater only. This is a safe bet, but you will first have to find a way to sample their food. Why not let your favorite bakery, sandwich shop, or restaurant cater your next event? Apple Spice Catering and Lunch Delivery can do it! Our local sandwich shops, restaurants, and bakeries offer catering services. If you've ever visited us for a casual lunch, you already know that our food is good and the service is reputable. There is no need to take a shot in the dark. Your coworkers will either get excited about food from their favorite place or experience something completely new. Go visit your local Apple Spice Corporate Catering and Lunch Delivery in Orem, Utah County to learn more about our company catering services.
It doesn't matter what your event is: whether a simple business lunch, an office Christmas party, or a wedding dinner, Apple Spice Catering and Box Lunch Delivery can meet the needs of your entire guest list. Don't let your upcoming event overwhelm you; call your professional catering service now.
Box Lunch Delivery Menu
When you need an easy, portable lunch for your meetings, field trips and outings in Orem, a boxed lunch is a great option. Fortunately, boxed lunch catering just happens to be one of our specialties. We package every box with care, ensuring that every sandwich, side and dessert is individually wrapped for peak freshness and safety.
Sandwich selections feature freshly-baked breads, fine meats and cheeses and crisp vegetables. Homemade soups, healthy salads and fresh bakery treats round out the box lunch menu. You can choose one side or opt for more if you can't decide. Each meal comes with a dill pickle, cookie and mint. Plus, our breakfast offerings range from pastries and fruit to gourmet eggs and seasoned potatoes.
Apple Spice is also happy to accommodate any special requests and adjust our menu items to suit dietary restrictions to the best of our abilities. Furthermore, we will label every box with the recipient's name to make the handout process easier. Deliver everyone's meals without handing out the wrong meals or running out of certain ones with our practical, efficient strategy.
Box Lunch Delivery Menu
Catering Menu
Whatever time of day you're looking to cater for, we'll be there. We have breakfast, lunch and dinner options, as well as desserts to finish your meal with a sweet treat. At Apple Spice, catering is our priority, meaning that you become our focus, too. Our corporate and business catering menu features delicious cold options like sandwich buffet platters, seasonal fruit and vegetable trays, fresh party salads, as well as hot choices like tender pot roast and our popular baked potato bar.
You can finish things off with our selections of dessert and pastry trays and cold, non-alcoholic beverages.
We only use premium ingredients in all our meals. As with our boxed lunch options, we do our best to satisfy everyone with their meal. We'll gladly take special requests. Even if it's not on our menu, we'll do everything we can to accommodate your wishes.
Catering Menu
Summer Sizzle
If you're planning your yearly corporate BBQ or a low-key party to get to know new team members, try our Summer Sizzle menu for a meal no one will forget. Enjoy a delicious, old-fashioned summer cookout featuring our grilled barbecue or teriyaki chicken, pulled BBQ pork, meat kabobs, ribs, hot dogs, hamburgers, and juicy steaks from our Steak Pit. Side dishes include baked beans, potato salad, coleslaw, corn on the cob and much more.
Summer Sizzle Menu
Holiday Menu
Make your holidays special with a delicious meal featuring roasted turkey, Virginia Baked Ham, cranberry chicken, honey pecan chicken, tender pot roast, mashed potatoes and gravy, steamed vegetables, stuffing, cranberry crunch cheesecake and much more. If you want to show appreciation to important clients, we'll make sure your celebratory holiday meals are merry and bright!
Holiday Menu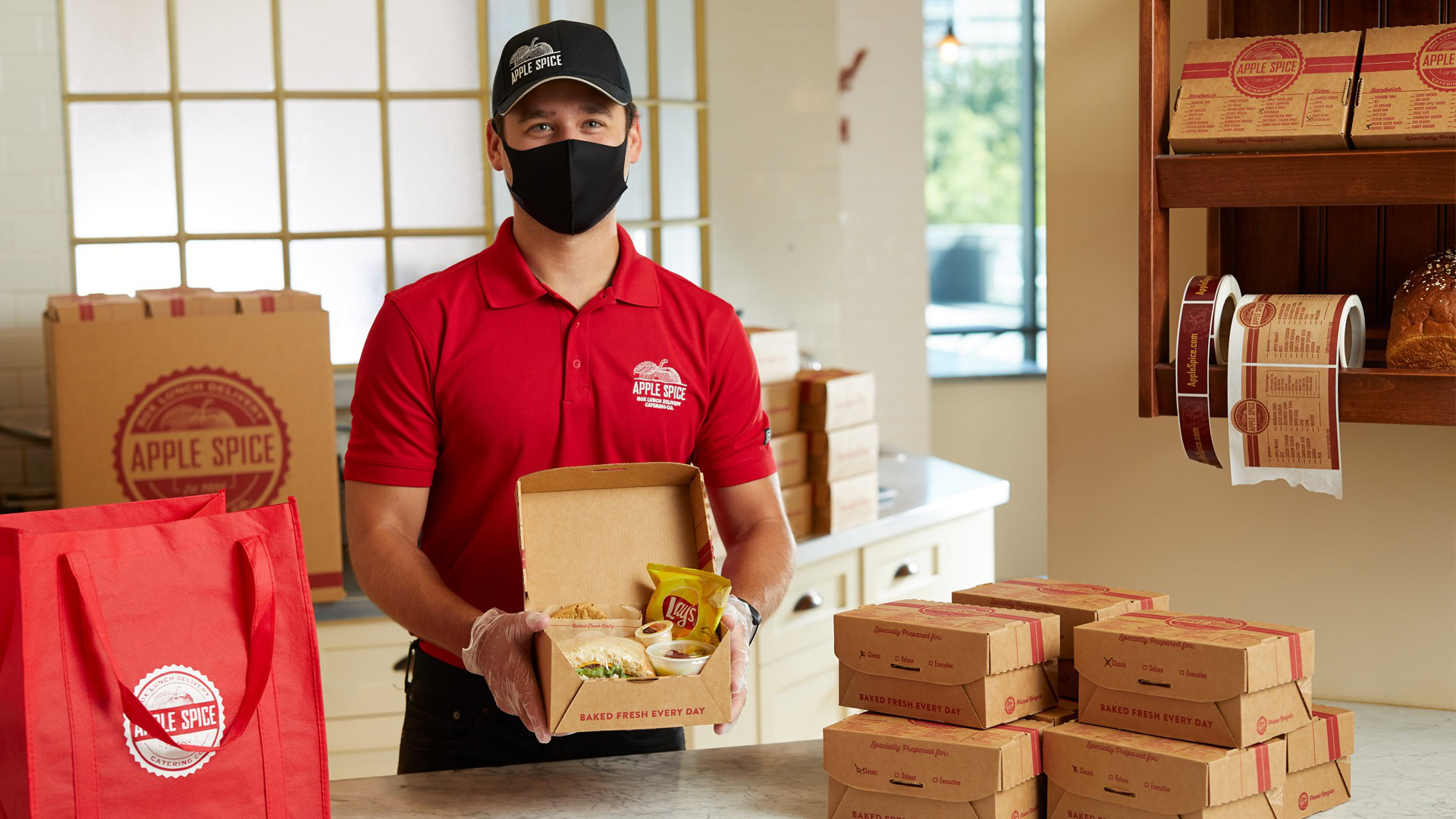 About Apple Spice
Apple Spice has been one of the leading corporate catering experts in the country for over 30 years. Trust our boxed lunch delivery and catering in Orem and the rest of Utah County for delicious meals for your next special occasion.
Whether you're looking for something simple for your team of five or need a caterer that can handle serving a conference of 5,000, Apple Spice is the perfect choice for you. We'll deliver your meals straight to you from our kitchens so you can get the freshest meal for you and your guests.
Order the Best Corporate Lunch Delivery in Utah County
When you choose Apple Spice to cater your next event, you can rest assured that we'll do everything we can to give you and your staff a memorable experience. We have a team of satisfaction specialists who will prepare every meal correctly and deliver it on time. Our team has experience working with companies just like yours, and our flexible service will ensure a seamless, stress-free experience from beginning to end.
Get started today with one of the best catering companies in Utah County. Fill out an order form to arrange Apple Spice Catering for peace of mind during your next event.
Contact Us Today