SALT LAKE CITY - UT (Downtown)
Corporate Catering and Box Lunch Delivery in Downtown Salt Lake City
TEMPORARY HOURS: Due to the low occupancy of businesses in downtown SLC, we will be open for limited hours each day with our "Grab 'N Go" service only.

GRAB 'N GO Hours
Hours 11:30 am to 1:30 pm
Please contact our Salt Lake Valley location for all delivery and pick up orders. We look forward to re-opening normal business hours as soon as the business climate returns.
For all deliveries, please call: 801-538-5070
Catering Specialist: [email protected]
Location:
Salt Lake City – Downtown
299 S. Main Street, Suite 200
Salt Lake City, UT 84111
Hours:
Monday – Friday 11:30 to 1:30 pm
Corporate Catering, Business Lunches, Box Lunch Delivery, and Dine-In Cafe in downtown Salt Lake City, Utah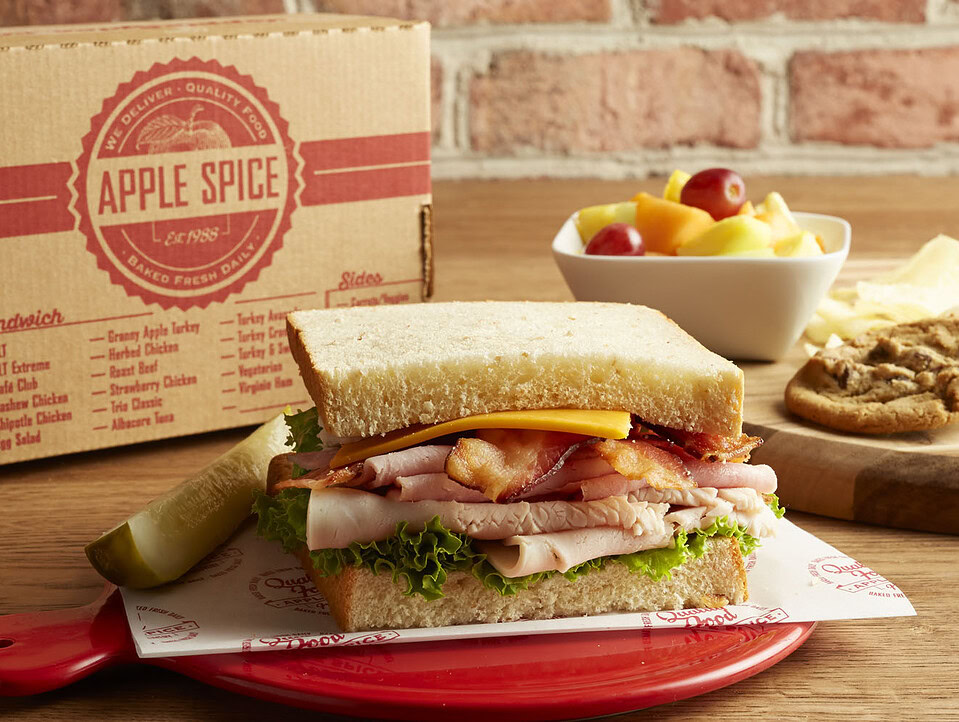 Box Lunch Delivery Menu
Experience one of the top corporate caterers in Salt Lake City, featuring freshly-baked breads, fine meats and cheeses and crisp vegetables. Homemade soups, healthy salads and fresh bakery treats round out the box lunch menu, while breakfast offerings range from pastries and fruit to yogurt parfaits with berries and granola.
Box Lunch Delivery Menu
Catering Menu
Our corporate and business daily lunch catering menu features delicious sandwich buffet platters, seasonal fruit and vegetable trays, fresh party salads, hot tender pot roast, our popular baked potato bar and selections of dessert and pastry trays.
Catering Menu
Premium Catering Companies in Downtown Salt Lake City
Here at Apple Spice Catering, our company is proud to serve businesses and organizations throughout Downtown Salt Lake City. For over 30 years, our team of experts has been helping make business breakfasts, lunches and dinners a success.
With our premium menu items and dedication to exceptional customer service, you can trust that everyone on your team will have a positive catering experience each and every time.
Experience the Convenience of Individually Boxed Catering
No matter if you are hosting a business meeting or conference with five or 5,000 guests, our individually boxed lunches will make mealtimes convenient and easy. Each box contains exactly what you ordered and has the recipient's name clearly labeled on the outside.
No longer will you have to spend time opening and closing every box to find out what's inside. You'll be able to quickly pass out each labeled box and treat your team to a filling, flavorful meal.
Our Hot and Cold Catering Menu Has Something for Everyone
When you need breakfast, lunch or dinner catering in Downtown Salt Lake City, our team of corporate catering experts has you covered. We offer an array of hot and cold menu items so that your team can indulge in everything from build-your-own parfait breakfasts to traditional catering foods.
From single department luncheons to large gatherings with clients and coworkers, your catering menu will be made right and delivered on time.
Our Catering Services Deliver Peace of Mind
Our team is dedicated to providing you with professional, dependable catering services for any kind of business event. No matter when you need your meals — whether it's in a few hours or on a future date — we'll deliver your order to your business's doorstep.
Have a special request? Be sure to let us know. We'll do whatever it takes to make sure you're satisfied. We'll also bring along enough utensils and garbage bags so you have everything you need to host a seamless event.
Order Corporate Lunch Delivery in Downtown Salt Lake City Today
Want to know why countless businesses and organizations have trusted Apple Spice Catering to handle all their catering needs? We have 30 years of experience delivering delicious meals right and on time. Trust the experts and we can help you plan and prepare for your next event.
To get started, reach out at 801-538-5070 or by emailing our catering specialist at [email protected].